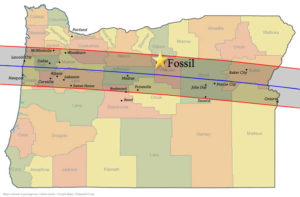 This once in a lifetime celestial event will take place on August 21, 2017. Fossil is in the Path of Totality of the 2017 Great American Solar Eclipse, and we're preparing to welcome visitors from around the world.
For more information on local events, camping, and travel tips, please visit the Wheeler County Eclipse Page.
Planning Your Trip
We're excited to welcome you to Fossil and Eastern Oregon. To make the most of your visit, here are a few tips to keep in mind:
Local infrastructure is somewhat limited in parts of our region. We recommend visitors fill their vehicles with fuel ahead of time and keep the tank topped off as much as possible.
Be sure to pack sufficient water and food for the day for all members of your group in case of extreme traffic congestion and/or if local businesses sell out of gas, food, beverages, and other supplies. The high temperatures in August can reach into the 100s, so plan to bring a larger supply of water than you think you will need.
Unplug during your visit. While our community does have cell phone service, the large crowds we're expecting will likely tax our towers. Expect coverage to be spotty in many areas throughout the weekend and during the Solar Eclipse. Look on the bright side, you won't have any trouble disconnecting and recharging out here.
Help Us Prevent Wildfires
The 2017 Solar Eclipse takes place during the height of fire season in Eastern Oregon. Please help us prevent wildfires and protect our natural landscapes by taking the following precautions:
No open fires.
Do not park in tall grass.
Use propane BBQs for cooking.
If you see a fire, report it to any emergency personnel.
Sun Safety
A solar eclipse can be safely viewed by wearing eclipse glasses that block most visible light and all harmful ultraviolet light. These glasses should be worn whenever even a part of the sun can be seen; only during totality when the moon has slid fully in front of the sun is it safe to take off one's eclipse glasses. In fact, observing those brief seconds of totality without eclipse glasses is encouraged because it's possible during this time to see the outer atmosphere of the sun and its streamers, loops and plumes of gas.
Remember eclipse viewing safety and come prepared. While many local businesses will carry eclipse viewing glasses and/or filters, it is possible they may sell out before the event. It is best to purchase these items ahead of time and bring them with you to ensure you have them available to use. Never look at the sun without eclipse rated eyewear.
Click here for more tips from our Emergency Managers.
Need More Information?
For more information on planning your trip to Fossil during the 2017 Solar Eclipse, please contact Tami Stockton, Wheeler County Economic Development Director, (541) 763-3200 or email tstockton@co.wheeler.or.us.