Wheeler County Bluegrass Festival (July 5, 6 & 7, 2019)
The Wheeler County Bluegrass Festival has grown steadily over its history and is noted for its pleasant rural atmosphere. The Festival takes place in the old pioneer town of Fossil in front of the beautiful brick courthouse, now over 100 years old.
Admission is free. There's dry camping and RV parking available at the fairgrounds, about a 5-minute walk from the courthouse, and at nearby parks. Concessions sell a variety of foods and crafts. A unique and popular part of this Festival is the "Fossil Song Contest." As in traditional song contests, only original unpublished songs are allowed, but songs must be about some feature of the local area – the place, people, history, or even imagined events.
WHERE:
Wheeler County Courthouse Lawn
701 Adams Street
Fossil, OR 97830
MORE INFO:
541-763-3200
tstockton@co.wheeler.or.us
info@wheelercountybluegrass.org
www.wheelercountybluegrass.org
Fossil Cruz-In (July 6, 2019)
Bring your lawn chairs, relax and enjoy the car show and live music. Entries begin at 9:30am and close at 11:30am. Awards at approximately 3:30pm. $15 pre-registration; $20 day of show.
*New location for sign in and awards, Cross Rifle BBQ on First Street.  Please contact Randy at 541-763-2270.
WHERE: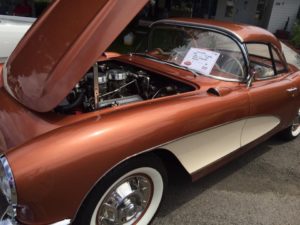 Downtown
Fossil, Oregon 97830
MORE INFO:
Wheeler County Fair and Rodeo (August 7-11, 2019)
2019 Theme: TBD
A traditional small town, county fair complete with 4-H livestock exhibits, a parade, NPRA rodeo action, live music, and a whole lot of family friendly fun.
WHERE:
Wheeler County Fairgrounds
702 Third Street
Fossil, OR 97830
MORE INFO:
(541) 763-4560
wheelercountyfair@co.wheeler.or.us
www.wheelercountyoregon.com/fair-board