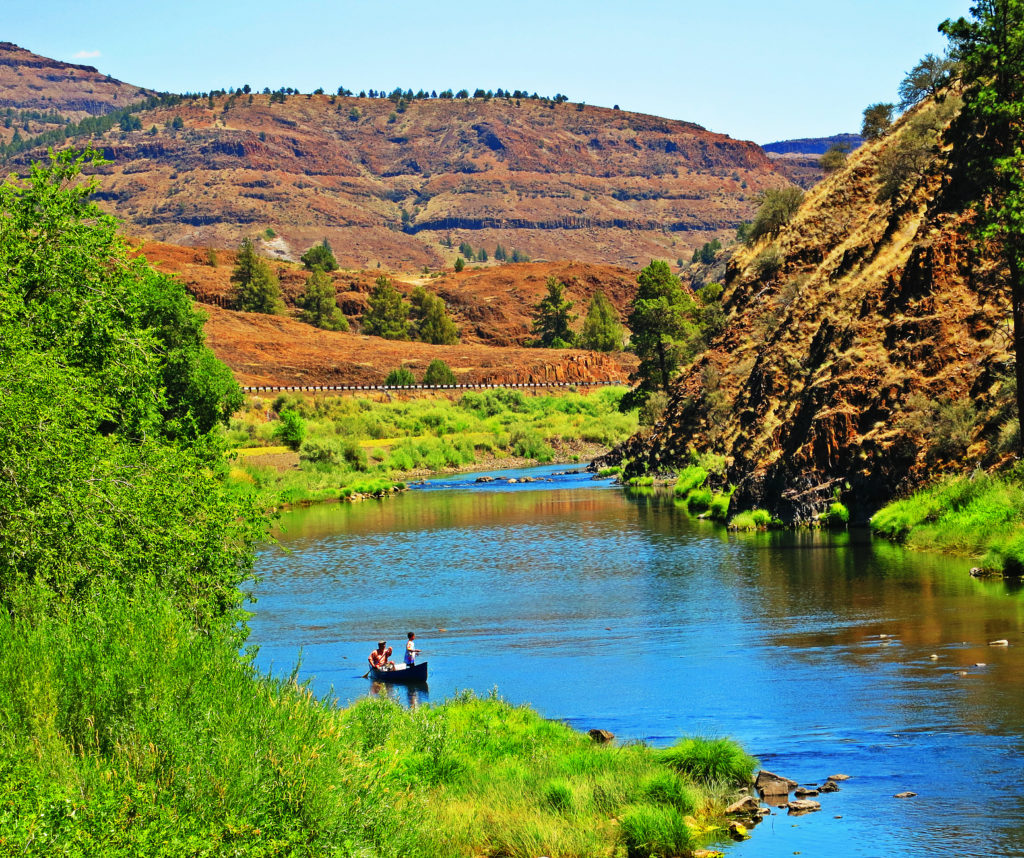 Rivers are the lifeblood of Eastern Oregon: irrigating crops, supporting wildlife, and providing abundant opportunities for swimming, fishing and other adventures. The wild and scenic John Day River is no exception. It's mighty waters define the region known as the John Day River Territory and are a spectacular playground for outdoor lovers of all ages and interests.
If you're an avid fisherman, the John Day River provides secluded, world-class fishing holes. The river is best known for its smallmouth bass, but there are also plenty of largemouth bass, summer and winter steelhead, trout, and bluegill to go around. Be sure to check out our list of Shuttles, Rafting and Guides for the names of local outfitters that offer guided fly fishing trips.
If rafting and relaxing is more your speed, we've got you covered too. The John Day River is relatively peaceful with few rapids. During the summer months, the water slows down and warms up, making it perfect for swimming and floating in the Eastern Oregon sunshine.
If you're a nature lover, bring your binoculars and hiking boots and keep your eyes peeled for the elk, deer, big horn sheep, birds and other wildlife that call the John Day River's rugged canyons home.
Just need to get away? Here in Eastern Oregon, we know there are few things more restorative for the soul than roaring campfires, roasting marshmallows, and nights spend under a canopy of stars. Luckily, there are plenty of peaceful places to unwind along the John Day River's banks.
SHUTTLES, RAFTING, GUIDES
JDR Shuttles
Ron & June Rollins
(541) 763-0909
(541) 410-0933
(541) 410-6524
PO Box 86
Fossil, OR 97830
Mah-Hah Outfitters
Steve and Linda Fleming
(888) 624-9424
(541) 763-3579
108 First Street
PO Box 428
Fossil, OR 97830
bassinbuddy@centurytel.net
www.johndayriverfishing.com
Service Creek Stage Stop
Richard Zwicker
(541) 468-3331
38686 HWY 19
Fossil, OR 97830
servicecreek@yahoo.com
www.servicecreek.com
Food, Lodging, Grocery, ATM, Shuttles, Raft Rentals