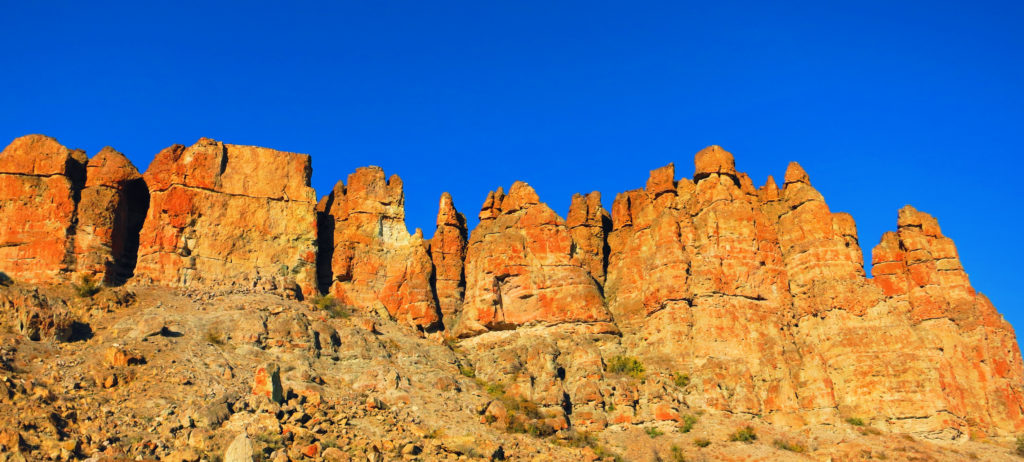 Divided into three units—Clarno, Sheep Rock and Painted Hills—the 19,000-acre John Day Fossil Beds National Monument is one of the world's richest repositories of plant and mammal fossils. Cached in a high desert filled with towering rock creations and multi-colored hillsides, it's also one of the country's most scenic destinations.
The Clarno Unit, 18 miles southwest of Fossil on Highway 218, encapsulates a period in time when enormous rhino-like brontotheres and diminutive four-toed horses roamed lush, prehistoric jungle landscape. Some 44 million years ago, volcanic mudflows swept through the area, leaving behind a rich fossil record in cathedral-like stone rampart called the Palisades.
While digging is prohibited within the Monument, anyone willing to get their hands dirty, can unearth remains of ancient leaves along a sloping ridge behind Wheeler High School (541.763.4146) in Fossil, Oregon's only legally accessible digging site.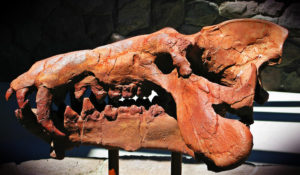 From Fossil, follow Highway 19 east. The Turtle Cove strata—an aqua-hued rock layer formed through millions of years of volcanic ash accumulation—greet travelers to the Monument's Sheep Rock Unit. Look for interpretive signs and fossil replicas along the family-friendly, mile-long Island in Time Trail or try the challenging, three-mile Blue Basin Overlook Trail, which ends with gorgeous vistas of the John Day River Valley.
Just up the road, the Thomas Condon Paleontology Center doubles as a year-round visitor center and one-of-a-kind research lab. Large bay windows allow visitors to watch scientists at work, gently scraping away at the fossil remains of ancient crocodiles and other bygone critters. Kid-friendly exhibits, colorful dioramas, and replicas of ancient animals and plants bring these discoveries to life to a new generation.

Nine miles west of Mitchell, off US 26, the Painted Hills Unit leaves visitors feeling as if they've landed on Mars. The barren landscape is punctuated by bands of soil in vivid shades of gold, red, black, and orange. Multiple easy trails explore the terrain, including the Painted Cove Trail, which traverses a boardwalk set amid giant mounds of rust-red claystone.
DIG DEEPER
Oregon Paleo Lands Institute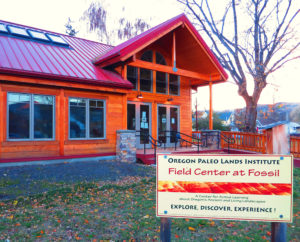 (541) 763-4480
333 Fourth Street
PO Box 104
Fossil, OR 97830
www.paleolands.org
Call for hours of operation
Wheeler High School Fossil Beds
Located behind Wheeler High School
404 Main Street
Fossil,OR 97830
Dig for and keep fossils
Entrance Fees:
Individuals $5
Family of four, $15
each additional child, $3
Groups (school, college/university, scouts, church, etc.) of 20 or less, $25
To arrange a group visit contact Wheeler High School at (541) 763-4303.